About Us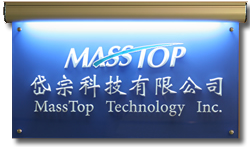 Founded in 2002, Masstop Technology has been a knowledgeable and reliable Network Design and System Integrator in the communications part of the Industrial Automation Projects.


We focus on Communications part of the Automation Projects only, since our expertise has been in the Network Design and Integration


We do NOT participate in tenders ourselves, but rather working under the Multi-Nationals such as Siemens, Invensys, Honeywell, etc, as the Communications Sub-Contractor.


Over the last 12 plus years, our end customers are mainly in the regions of Asia Pacific, Middle East and Africa.


We have collective knowledge base over almost all of the communication technologies such as TDM, SDH/SONET, T1/E1, Serial Data, Wireless, Ethernet and IP. And these are important in optimizing the designs of communication networks for their reliability, and expandability, while maintaining futuristic migration in mind.
Masstop Advantages
There are certain traits, or characteristics that you need from a solid partner in any project.
At the beginning, when tender specs are ready, and you need a solid technical design and proposal, with dollar estimation, for you to proceed with the tendering process, we can provide excellent, professional and quick network design with BOM, quotation and project specific technical proposal for you, and we could usually do this in a relatively short amount of time. Say, 1 or 2 weeks. Because of our experience in dealing with Consultants, we are almost certain that our design will be accepted by the Consultants, and we are pretty sure that we will be able to pass the FAT and IFAT in the future, if we could be given enough project material at the beginning.


During our design work, Cost Efficiency is always being checked every now and then to make sure the product selections are on the right track and with which initial capital investment, CAPEX, will be kept to its minimal; and the operating costs in the future can also be maintained to a minimum.


Last but not least, We in Masstop, have a special passion for "RELIABILITY." The network designs we had done in the past, all have one thing in common, that is we pay special attention to the RECOVERABILITY, or SURVIVABILITY to ensure the best possible RUGGEDNESS of the network is achieved under the project constraints. For example, we are no longer satisfied with "Recoverability under Single Failure" of the network. Most of our designs, unless there are huge handicap to begin with, are networks Recoverable under Double Faults, sometimes, Triple Faults. We always extend the possible Recoverability of a network to its maximum possibility.


We have a track record for Solid Project Execution which usually means, ON-TIME, WITH QUALITY, and WITHIN BUDGET.


All and all, Masstop is a partner that you can TRUST! We know "TRUST" can only be earned with our deeds and actions, and this is what we always believe in and what we always follow in real life projects.